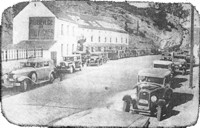 Since we bought it in 1998, we gradually renovate the inn to give it back the qualities of its golden age.
So many decades ago, it was a such a well-known place in Belgium where artists, kings, and famous people went for relaxing. It was also a life project for the owners who cherished their establishment.
So every year we are closed several monthes in order to deeply renovate our inn. We've even refurbished the facade of the inn so that the walls, made of country stones, now present the same authenticity as its first generation of owners.
Built shortly after 1830, its stone walls, sixty centimeters thick, and its old oak beams reflect its respectable age.
Registered in 1836 under the name "Cabaret," it was a relay for the boatmen and their horses which hauled barges on the Meuse. Men and animals found food and rest there.
After the construction of the dams and the advent of the vapor engines on boats, the relay lost its customers and was transformed into farm. In 1930, the house became an inn. The cattle stable becames the room of the restaurant and the living room.
Located in the Valley of the Meuse, 5 kilometers down of Dinant, in the direction of Namur, on the left bankof the river, the inn guarantees a pleasant and preserved framework since it will make you benefit from a site classified on May 2, 1985, by the general direction for town and country planning, housing and patrimony.
It is with an aims of satisfying you and providing you a pleasant moment of relaxation and user-friendliness that we will accomodate you in the tradition of the good things.